Threat Research
2017 Flare-On Challenge Solutions
Nick Harbour
2 min read
|
Last updated: Nov 05, 2021
Another year, another successful Flare-On Challenge. I'd first like to thank our challenge authors for their hard work developing each of the challenges, and also for writing up their solutions:
Challenge #1: Dominik Weber (@Invalid_handle)
Challenge #2: Nhan Huynh
Challenge #3: Matt Williams (@0xmwilliams)
Challenge #4: James T. Bennett (@jtbennettjr)
Challenge #5: Tyler Dean (@spresec)
Challenge #6: Jon Erickson (@2130706433)
Challenge #7: Michael Bailey (@mykill)
Challenge #8: Moritz Raabe (@m_r_tz)
Challenge #9: Joshua Homan
Challenge #10: Dominik Weber (@Invalid_handle)
Challenge #11: Nick Harbour (@nickharbour)
Challenge #12: Jay Smith (@jay_smif)
Our popularity and participation continued to swell, with a 57 percent increase in total players (3240) and a 304 percent increase in the number of players who solved at least one challenge (2617) over last year. The overall difficulty also appears to have increased this year, with only 4.3 percent of players (140 total) completing the challenge, a decrease from the 6 percent who completed last year's challenge.
The following graph shows the total number of players who solved each stage of the challenge: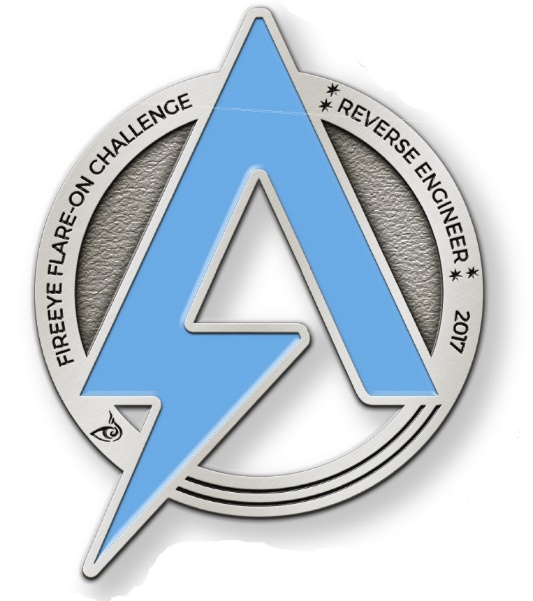 The 140+ players who completed the challenge will have their names forever listed on our hall of fame, and they will receive a prize. The prize this year is this massive Flare pin that measures nearly 4 inches across:
This pin is a great item to sport on your backpack or affix to your lanyard. The above is a mock-up from the manufacturer – we expect to receive them in the next few weeks and will begin shipping them to the winners soon after.
All the binaries from this year's challenge are now posted on the Flare-On website (password: flare), and here are the solutions written by each challenge author: