Mandiant Stories
Stay in the Zone: Mandiant Advantage Browser Plugin Brings Insights, Expertise and Intelligence Forward
Lance Mendes
2 min read
|
Last updated: May 25, 2022
At Mandiant, we understand that cyber security practitioners are often "in the zone"—a mindset and special place that requires extreme focus and unbroken concentration. Yet security teams are regularly distracted by alerts and other action items that require quick decision making in order to protect the organization. Workflow disruption, for instance when switching between applications, is also a major distraction resulting in loss of focus, extended work cycles, frustration or—worse—missed critical events.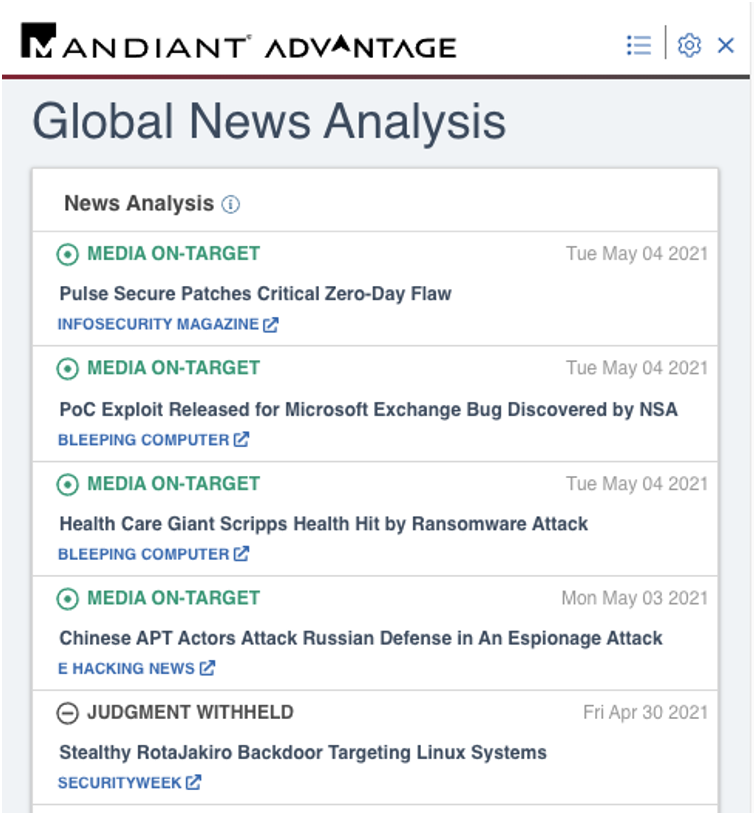 Using the Browser Plugin, also called Extension in the Chrome Web Store, security analysts have direct access to the latest insights from Mandiant experts such as:
With the Mandiant Advantage Browser Plugin, security practitioners can instantly embed the most recent threat insights, context and research directly from our platform into the application page they are using, without needing to toggle between programs. This automated heads-up display approach enables them to stay "in the zone" while having access to relevant and timely threat intelligence, so they can take accurate and necessary action quickly. We believe this is critical to security success and have made it also available for subscribers of Mandiant Advantage Free, a no-cost access subscription to our Advantage SaaS Platform
Global News Analysis view providing direct access to Mandiant's context on recent news headlines. Selected news topics displayed via the browser plugin cover a broad array of cyber threats and help any reader (operational to strategic) to frame publicly discussed threats via Mandiant's comments and ratings
Free expert-based indicator confidence scoring (also called IC_Score) for millions of open source indicators to prioritize threat
Mandiant's context associations on commonly used malware and actor names
Subscribers can easily share these threat insights to their teams and workflows for collaboration, investigation and remediation, with integration available on Slack and Microsoft Teams.
With all this power and actionable insight a click away, SOC analysts, incident responders, risk managers and security leaders can know what we know and stand with us on the front lines.
To learn more about threat actor insights and how Mandiant Advantage can work for you, check out our on-demand webinar, "Respond to Free Alerts that Matter with Free Expert Ratings from Mandiant," today.