Blog
New Mandiant Advantage Security Validation Offering Helps Organizations Confidently Answer the Question: Are We Able to Prevent a Ransomware Attack?
Michael Armistead
2 min read
|
Last updated: May 05, 2023
Advantage
Ransomware Defense Validation
Ransomware
Mandiant
Daily headlines say it all—the frequency and proliferation of ransomware is accelerating. Not only have Mandiant's incident responders seen ransomware attacks increase dramatically in recent years, ransoms themselves have increased from $416 million for all of 2020 to $590 million for the first six months of 2021, according to the U.S. Treasury. Organizations, large and small, recognize that without the right tools in place they could be the next victim.
Threat actors continue to up their game with increasingly aggressive and sophisticated attacks, shifting from standard ransomware infections to multifaceted extortion campaigns. But these attacks have one thing in common: when successful, they all end with critical data locked up and a demand for a ransom payment. Without visibility into the threats that matter most, and the ability to determine if security controls can withstand a ransomware attack, it is impossible to feel confident that this risk is mitigated.
As a mission-focused company, Mandiant has a unique ability to help organizations build confidence and know they are prepared. Therefore, we developed Mandiant Advantage Ransomware Defense Validation, a modern SaaS–based solution that leverages our threat intelligence services, ransomware reconfiguration capabilities, and automated validation infrastructure.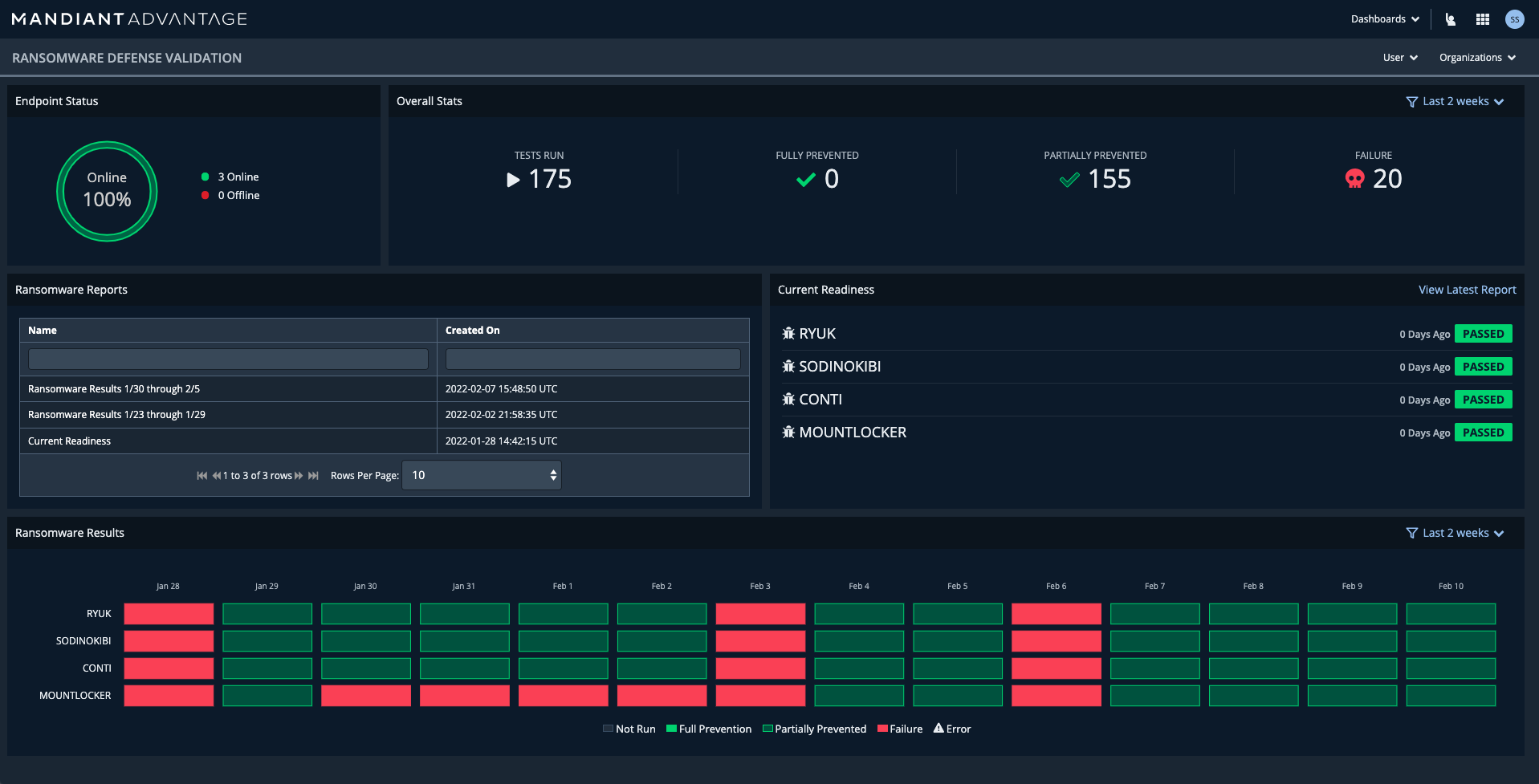 The integration of these capabilities within the Mandiant Advantage platform delivered via Ransomware Defense Validation enables organizations and executives to better evaluate if their critical infrastructure can withstand the most likely ransomware attacks.
Evaluate Security Effectiveness
Mandiant's team of industry-leading threat analysts and researchers are deployed all over the world, actively monitoring ransomware groups and other hostile entities to identify threat actors and their objectives, including techniques and targeting. This frontline insight is continuously used to influence exactly what validation content and repurposed ransomware are used by the new offering for automatic validation. Organizations benefit from up-to-the-minute access to relevant ransomware-specific intelligence and ransomware content our world-class experts have safely leveraged to evaluate security controls within a production environment.
Gain Confidence in Your Security Posture
Now generally available, Ransomware Defense Validation allows organizations to quickly and easily understand their ability to prevent relevant ransomware from encrypting their critical data and grinding their business to a halt. Most importantly, leaders will be able to more confidently answer the question plaguing many organizations today: Will our security controls prevent our data from being encrypted by ransomware?
With Ransomware Defense Validation, they now have concise reports to help prove it.
Head over to our page to learn more about Ransomware Defense Validation and the Mandiant Advantage platform.