Managed Detection and Response for SentinelOne
Scalable defense that provides 24x7 visibility and expertise.
Expert detection and hunt with Singularity XDR and Mandiant MDR
Empower your team with the combined expertise of Mandiant Managed Defense and the extended visibility, coverage and efficiency of SentinelOne's Singularity XDR.
Managed Defense analysts, cyber threat hunters and incident responders work hand-in-hand with your team 24x7 to monitor your environment, and investigate and respond to critical events.
Mandiant defenders are backed by industry leading threat intelligence and enable your security team to make better informed security decisions.
Streamline your operations with detection and response from Mandiant
Augment your defense 24x7
By augmenting your security team with Managed Defense, you'll receive help from Mandiant experts 24x7 who leverage your trusted SentinelOne XDR. Our experts will prioritize and investigate alerts, proactively hunt for hidden breaches, contain affected systems, and empower you to respond effectively.
Reduce dwell time with
human-led hunting
Combining techniques observed "in the wild" with threat intelligence from Mandiant, our hunting team delivers expertise to work for our customers who use SentinelOne Singularity for Endpoint. Managed Defense threat hunting is supported by up-to-the-minute threat intelligence and mapped to the MITRE ATT&CK framework. You see exactly what we are hunting and can access intelligence articles in Mandiant Advantage to learn more about threats we have observed and why they're impactful.
Resolve incidents quickly
Managed Defense integrates frontline intelligence and attacker research to protect you at speed and scale. Managed Defense experts can help you stop attacks and resolve incidents without impact or the need for a formal incident response engagement.
Additional benefits for SentinelOne customers
With 1,100+ Mandiant analysts and researchers, Managed Defense becomes a true partner to you as a SentinelOne customer. Mandiant works with your team to correlate observed activity and respond appropriately through additional investigation, containment or remediation.
Find actionable and malicious incidents in real time
Triage prioritized alerts with a Mandiant expert within minutes
Investigate, respond, and remediate in minutes, not hours
Hunt continuously using up-to-the-minute threat intelligence
Stay up to date with full transparency on alert, investigation and hunt mission status
Adopt real-world proactive strategies to improve your overall security posture
Join forces with dedicated security experts who are a phone call away
OUR APPROACH
Managed Detection and Response Powered by Intelligence and Expertise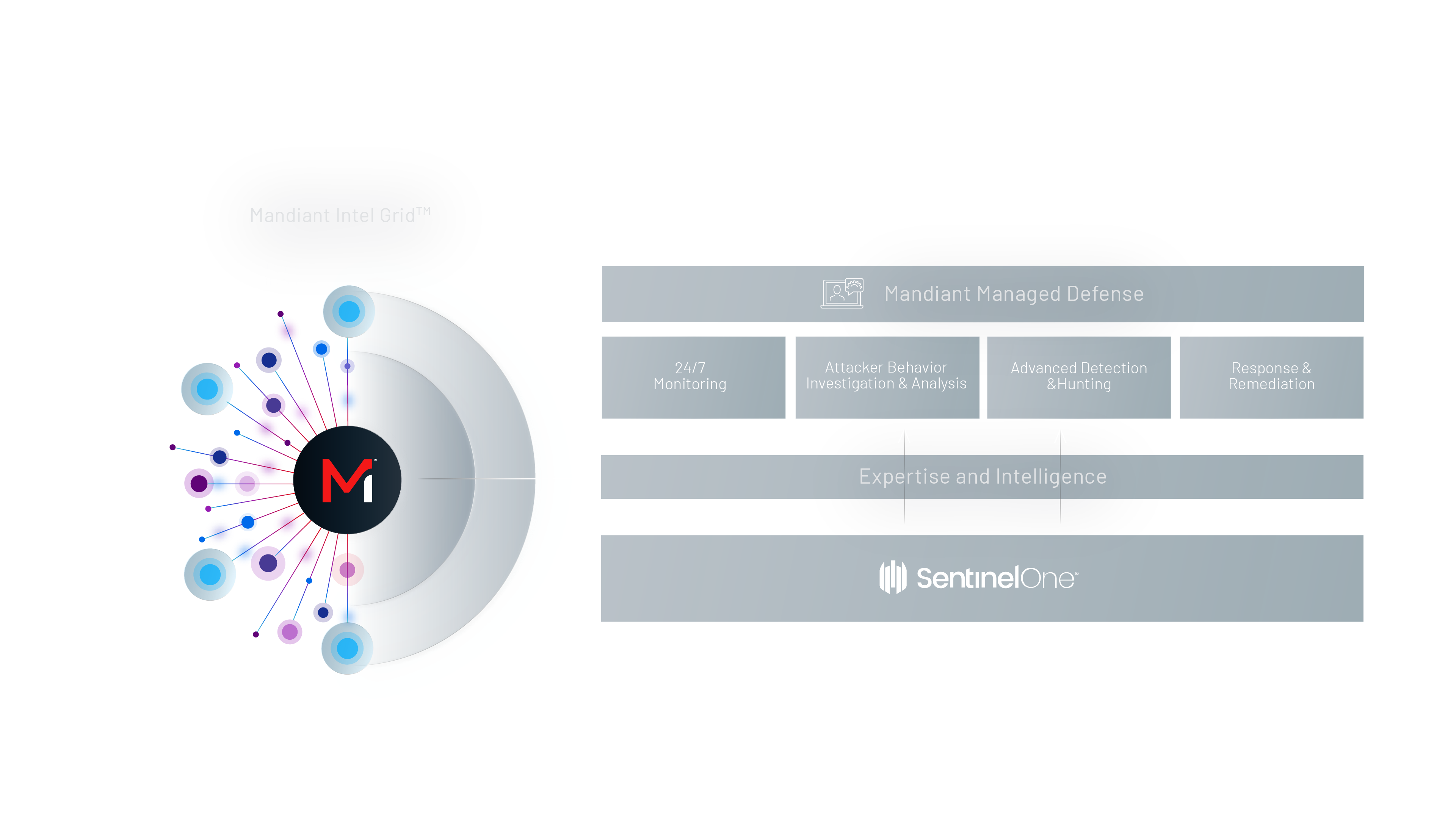 BLOG
Upping the Advantage: Mandiant and SentinelOne Announce Strategic Partnership
Resilient organizations require effective, flexible cyber security controls that work best for their specific needs.
WEBINAR
Threat Trends: Metador, Mercenaries, and LABScon with SentinelOne
The addition of SentinelOne to our elite list of strategic partners marks a major milestone in Mandiant's journey as a vendor agnostic organization.
BLOG
UNC961 in the Multiverse of Mandiant: Three Encounters with a Financially Motivated Threat Actor
Learn firsthand how Mandiant Managed Defense identified and responded to web application vulnerability threats before significant impact occurred.