Managed Detection and Response
Managed Defense is Mandiant's MDR Service.
Comprehensive Protection from Advanced and Emerging Threats
Gain peace of mind knowing Mandiant is on the job protecting you against advanced and emerging threats. Our managed detection and response (MDR) service defends your business across endpoint, network, cloud, email and operational technology providing around the clock, lightning-fast detection, human analysis and expert response. Managed Defense supports a wide array of products and vendors, from endpoint to network to cloud telemetries.
Expert detection and hunt

Mandiant experts monitor and investigate alerts and proactively hunt for attackers across your entire infrastructure.
Rapid, Complete Response

Contain and remediate threats before they impact your business with the collective knowledge and experience of Mandiant.
Amplify Your Team

Partner with our team of dedicated experts to train, advise and elevate your program.
Trending Evil
Get insight into important threat actors, malware, and tactics observed by Managed Defense. This cyber threat report not only reveals firsthand observations but equips you with defensive actions so you can strengthen your security posture.
Protect and Defend with Mandiant Experts
Managed detection and response to enhance your security.
Accelerate Your Response
Benefit from the speed with which Managed Defense integrates frontline knowledge and attacker research to protect customers at speed and scale. Leverage Managed Defense experts to stop attacks and resolve incidents without impact or the need for a formal Incident Response engagement.
Expose Hidden Adversaries
Proactively hunt for hidden malicious activity and cyber attacks. Managed Defense threat hunting is defined by up-to-the-minute threat intelligence and mapped to the MITRE ATT&CK framework. Through the Managed Defense portal, you can see hunting activities in real time. 
Minimize Your Risk Against Ransomware
Get a head start defending against today's biggest threats with our knowledge of what attackers are doing right now.  Managed Defense leverages in-depth knowledge about attacker behavior to reduce the dwell time of multifaceted threat actors and help protect your business from extortion, ransom, downtime and theft. 
Leverage Mandiant Expertise and the Latest Threat Intelligence
Get support from experts who routinely respond to and protect against motivated adversaries and leverage their knowledge of the attacker to improve your ability to make fast, informed decisions. 
OUR APPROACH
Managed Detection and Response Powered by Intelligence and Expertise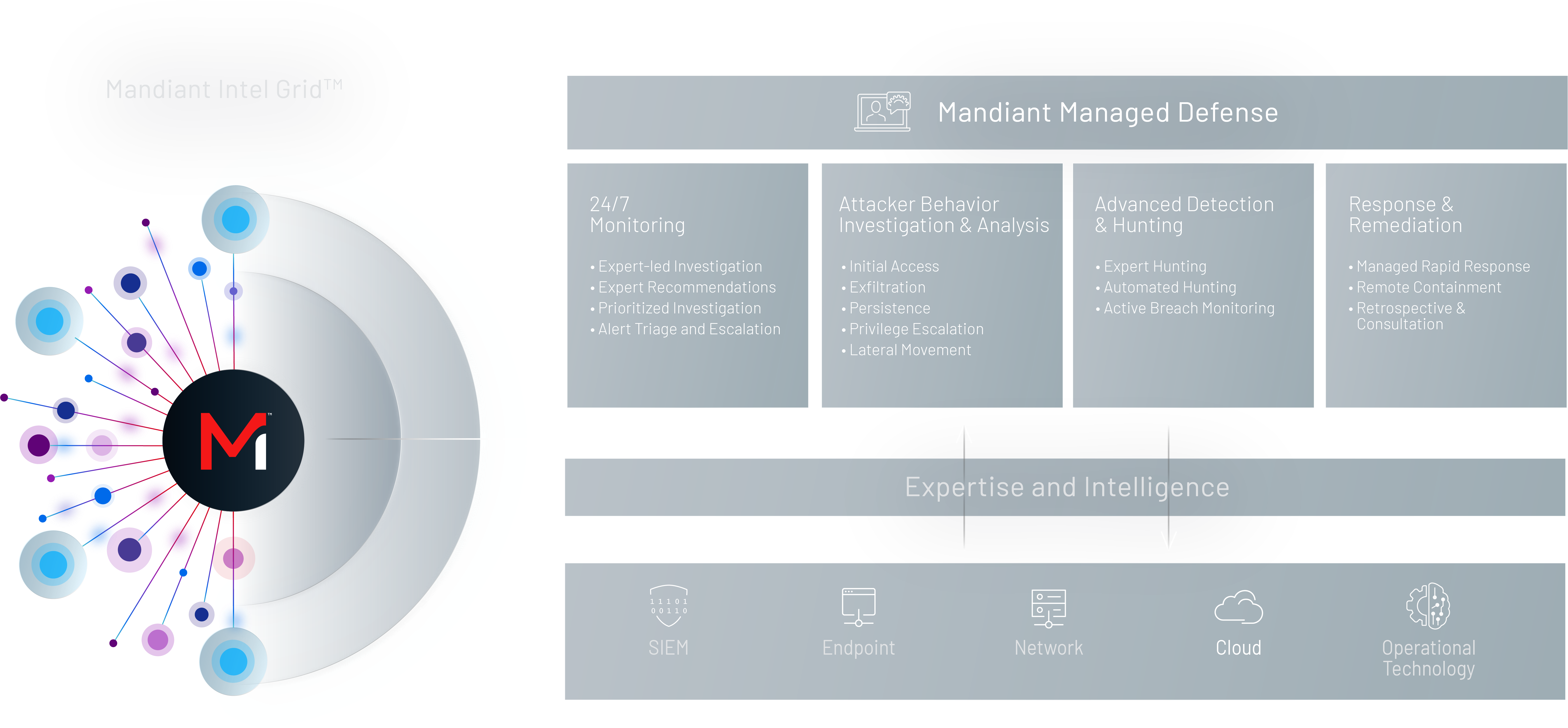 Managed Defense MDR Features
Augment your defenses with a managed detection and response service backed by both Mandiant threat intelligence and incident response. Managed Defense includes standard and unique features to protect from stealthy and damaging attacks.
Detection and Threat Hunting
Managed detection to identify the most impactful threats
Expert monitoring and threat hunting to identify and investigate the most critical threats that need attention, saving your team time and effort.
Alerts supplemented with critical threat context
Enrich alerts with Mandiant threat intelligence to inform decision-making.
 
Proactive threat hunting with MITRE ATT&CK mapping
Detect hidden malicious activity and potential cyber attacks with threat hunting missions adapted in real time to changes in attacker behavior and mapped to the MITRE ATT&CK framework. 
 
Rapid response to reduce the impact of a security incident
Avoid the added cost of onsite IR with swift investigations to stop incidents before they disrupt your business.
 
Contain impacted hosts
Receive help from experts to act quickly and contain potentially compromised assets as directed.
 
Actionable guidance for an effective response
Benefit from remediation recommendations based on the collective knowledge and experience of Mandiant.
 
A designated team of experts you can depend on
Amplify your team with experts who provide insights on tactics we know attackers are leveraging right now.
 
Threat Intelligence
Gain a deeper understanding of threats from Mandiant's industry-leading threat intelligence with articles linked to your investigation and hunting results to help you make informed decisions.
 
Expanded coverage of security operations
Gain around-the-clock monitoring of alerts and expert coverage for your Security Operations Center (SOC).
 
Security fortification to improve effectiveness
Ongoing assessments and recommendations informed by relevant intelligence and understanding of your environment.
Preview Managed Defense
See what Mandiant experts see. Explore the service through our platform.
ANALYST REPORT
IDC names Managed Defense a leader in IDC MarketScape: U.S Managed Detection and Response Services 2021 Vendor Assessment
Managed Defense Offerings
Managed Defense for CrowdStrike
CrowdStrike Falcon platform customers can confidently depend on the power of CrowdStrike and expertise from Mandiant.
Managed Defense for SentinelOne
Drive better outcomes with Singularity XDR and expertise from Mandiant.
Managed Defense for Microsoft Defender for Endpoint
Microsoft Defender for Endpoint customers can enhance their security with up-to-the-minute threat intelligence and the support of experts who routinely respond to and protect against motivated adversaries.
 
Managed Defense for Operational Technology
MDR services specifically tailored for Industrial Control Systems (ICS) / Operational Technology (OT) environments.
Getting Started
Join forces with frontline experts—amplify your team and elevate your security with managed detection and response services from Mandiant.
Review the Full Benefits of Managed Defense
Learn how managed detection and response delivered by frontline experts can improve your defenses.
Threat Intelligence

Understand the threats Mandiant sees targeting you and your peers.
Security Validation

Continuously test and understand the effectiveness of your security controls.
Automated Defense

Automation of the Mandiant expert to make security operations more effective & efficient.
Attack Surface Management

See your organization through the eyes of the attacker. 
Managed Detection and Response (MDR) FAQ
What is managed detection and response (MDR)?
MDR is a managed security service that monitors an organization's security technology 24/7 and applies human intelligence and interpretation to quickly find and investigate impactful events, proactively hunt for ongoing or past breaches and respond before attacks impact operations.
What is Mandiant Managed Defense?
Mandiant Managed Defense is an MDR service that provides 24/7 access to security experts who monitor an organization's security technology to quickly find and investigate impactful events, reduce attacker dwell-time by proactively hunting for ongoing or past breaches, and respond before attacks impact your business.
What is proactive threat hunting?
Proactive threat hunting is a human-led process of searching for covert signs of an active or attempted compromise. It combines knowledge, intuition and automation to test defenses against known attacker behavior, tactics and targets.
How can MDR reduce the risk of ransomware?
Speed matters when trying to stop a ransomware attack. MDR providers offer a turnkey experience with dedicated cyber experts to monitor systems 24/7, investigate disparate alerts and form effective responses more quickly.
Have Questions? Contact Us.
Mandiant experts are ready to answer your questions.