Blog
Celebrating a Decade of Reverse Engineering Fun — Announcing the 10th Annual Flare-On Challenge
Nick Harbour
2 min read
|
Last updated: Sep 09, 2023
FLARE
Malware
Reverse Engineering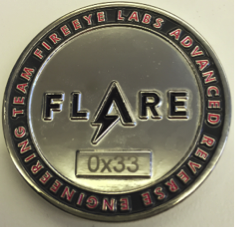 We can't believe that today we're officially announcing the 10th annual Flare-On Challenge! The challenge has come a long way since it began. In the very first Flare-On challenge, 7,140 people participated and 226 people completed it. Our first prize for those who completed all seven challenges was this very cool coin, and since then we've given out belt buckles, medals, and a skeleton key. 
Our latest tenth annual Flare-On Challenge will begin at 8:00pm ET on Sept. 29th, 2023. The Flare-On challenge draws in thousands of players every year, and is the single-player CTF-style challenge for current and aspiring reverse engineers. It is a grueling challenge designed for the world's best reverse engineers to test their skills through a series of progressively difficult puzzles. Challenge yourself to be in the elite few who will complete all challenges this year. The contest will run for six weeks, ending at 8:00pm ET on Nov. 10th, 2023. 
This year's contest will feature 13 challenges covering a variety of architectures, including 32- and 64-bit Windows, Linux, and Android; and even a retro-computing challenge involving PDP-11. If you're not digging out an obscure processor manual at least once a year then you aren't doing it right. This is one of the only Windows-centric CTF contests out there, and we have crafted it to partially reflect the skills and challenges our FLARE team faces in the malware analysis trenches.
If you complete all challenge stages, you will be eligible to receive a prize and permanent recognition on the Flare-On website to honor your greatness. Let your friends and employers know what a big deal you really are! Prize details will be revealed at the end of the contest.
Check out the Flare-On website for a live countdown timer and to view prior year's challenges and solutions for practice. For official contest communications we will be using the twitter hashtag: #flareon10.